Extralite E BONE QRC & UltraFront SX [en]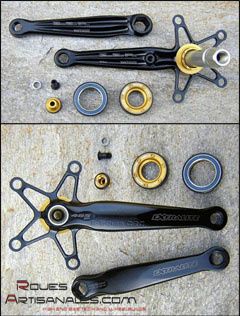 Extralite
updated his range with a new crankset, the
E BONE QRC
. Entirely made out of aluminium, it features very large bearings (5mm larger than Campagnolo or Shimano bearings) for maximal stiffness.
Size: 172,5mm
Weight: 485g l'ensemble (BSA68)
Diameter: 110mm
Bearings: 6806 2RS extérieurs 30-42mm
Spindle: 22mm integrated
Finish: Black anodized
Logos: CNC machinned and laser etching
Q-Factor: 138mm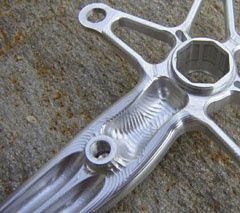 The crank arms are particularly worked and lightened, especially their internal face. These specific shapes are the result of finite elements analysis and they allow a high weight save without compromising the stiffness or the length of life.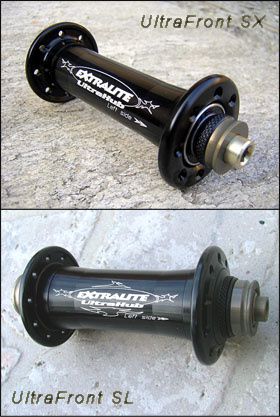 Beside this new, Extralite proposes from now on, a new hub which is very interesting. Called UltraFront SX, it is as well as the crankset, fully made out of aluminium. The black anodized's logo is laser etched, the bearings are oversized contrary to M5 or American Classic for example, and directly face the exterior. the bearing preload adjustement can still be set through the
MicroTuner for ideal stress on the bearing. The whole procedure can be performed by hand thanks to the knurled screw.
As light as a Tune Mig45 for an excellent reliability, knowing Extralite, ths hub is pretty affordable. Count 149 euros, which is the same price as an UltraFrontSL, that will probably be replaced soon or late, at least for road racing. Indeed, for MTB, this SL hub is now available in 32 holes.





UltraFront SX
* Body: Aluminium 7075 Tx CNC machinned, self alignement flanges
* Axle: Aluminium 7075, 14mm of diameter
* Drillings: 16, 18, 20, 24
* For radial lacing
* Bearings: 6802 2RS
* Preload adjustement by hand with the microtuner
* Weight: 49g