Project 1: hand built clincher wheels 1047g
After a summer and fall full of new products from many manufacturers, there hasn't been much news lately. We want to make the most of this short break and present some exceptional wheels, put together with prestigious components made of some novel materials.




The number one of the serie...

We will unveil a series of 3 wheelsets. This first set is for clinchers and weighs close to one kilo. Magnesium, titanium, aluminium and ceramics are all in evidence here.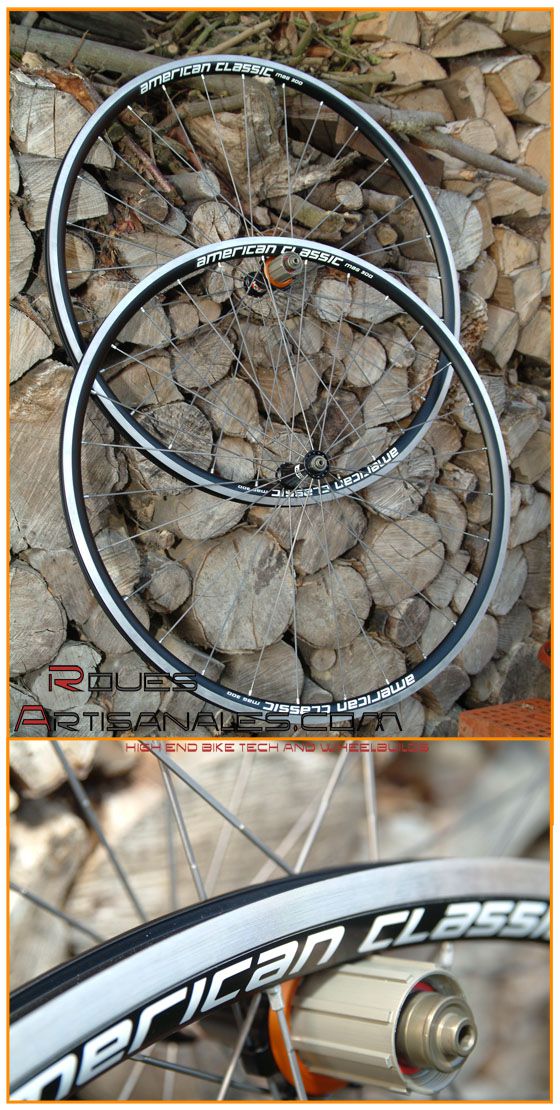 The rims

The rims come from the American manufacturer American Classic and are made out of magnesium alloy, allowing rims far lighter than aluminium: 308g the front rim and 313g for the rear. There's no sacrifice in stability with the rims a little wider than normal, increasing their stiffness.
Known for their problematic ageing, the magnesium alloy corrodes in air and even more with water so the rims have been given a double ceramic coating inside and outside for 2007. A black matt paint that soaks into the ceramic layer is finally applied to guarantee a long rim life. However it is recommended that the rims are cleaned and dried after wet rides.




The hubs

For the hubs, we've gone off Tune recently with Extralite offering equally good hubs that are readily available...! Let's try to make it short: Extralite hubs are very light, easy to adjust, have a good geometry, are particularly smooth and look quite nice although they're only available in one colour.

Now let's see in detail what makes these hubs special.
First, let's talk weight. The standard models called SL and SX (front hubs) and SR (rear hub) are only 62g, 49g and 158g on the scale. They require standard J bent spokes. The SP hubs are for straight pull spokes and are even lighter: 48g the front and 152g the rear...! It's not over, with ceramic bearings replacing the standard steel cages, a couple of grams can be saved here again. The SP rear hub is then sub 150g.
For this special wheelbuild, the front road hub didn't offer enough material, and so not enough resistance to be drilled in 28 holes (Mag300 rims aren't offered with less than 28 holes), it had to be replaced by the MTB version, which is a little heavier: 58g with ceramic bearings.
Second, the play setting and the bearing preload is adjusted with the micro-tuner: a bolt turned by hand pushes the bearings to avoid play without pressing the bearings, unlike Tune hubs' carbon axle spacing caps.
Third, the Extralite hubs have an aluminium coated and hardened multi-diameter axle (from 17 to 20mm) designed to distribute the loads and lighten where it is really needed.
Fourth - last but not least - the hub mechanism with the micro-tuner prevents the quick release loads from affecting the bearing smoothness.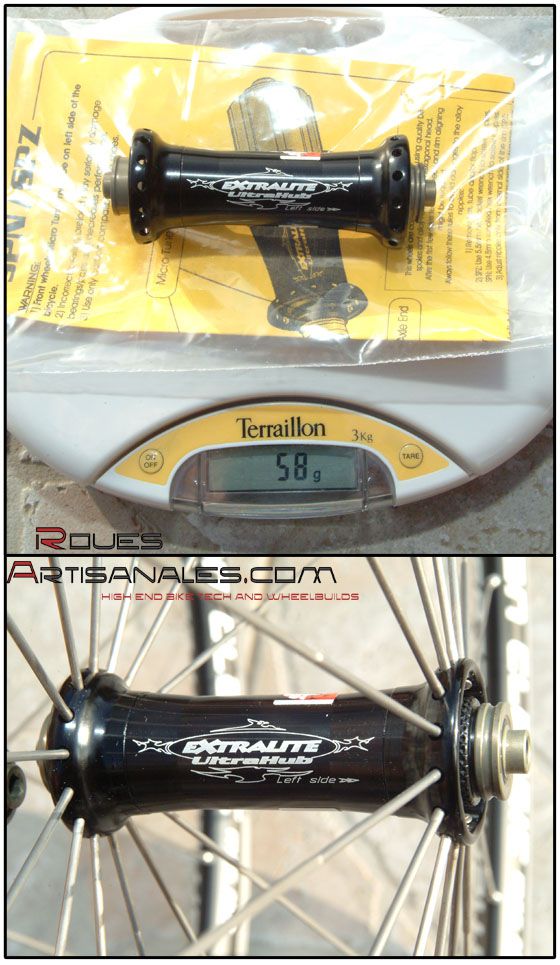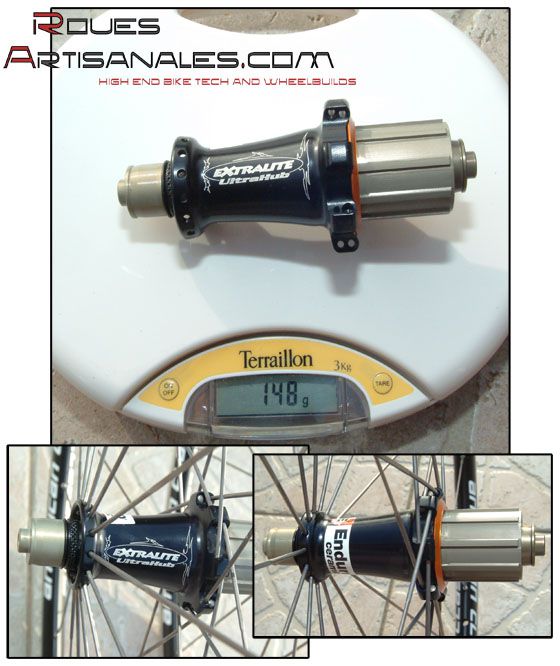 The spokes

As a final touch, the spokes used here are bladed titanium Pillar 1422 TB aero. The straight pull heads optimize the spoke life since the bend, creating strain concentrations although being cold forged, is avoided. At the same time, the hubs can be lightened since the stress is lower.
The spokes' weight (3-3.5g each) allows very light builds. However, it's important to add, as a side note, that they make for flexier wheels than with standard spokes (DT Competition and DT Aerolite).


The weight

Finally, on the scale, the wheels are a mere 1047g with 28/28 spokes. Of course weight is not always what matters but we are satisfied and relieved to hit our target: sub 1150g clincher wheels that a medium weight cyclist can ride every day.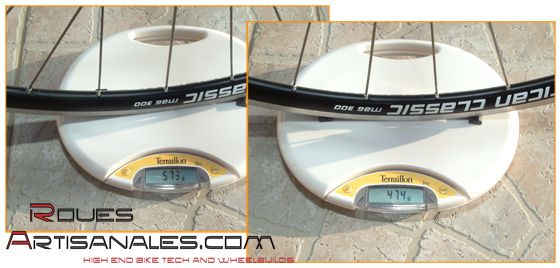 We stay in a reasonable price range to boot with the set coming in just a little over 1500 euros...