Carbon transmissions... how do they hold?
We spoke about the carbon transmissions the last year, when we reviewed the chainrings and jockey wheels from Fibre-Lyte. Originaly we were quite reticent to use such a material for the transmission. Finally, we are very pleased with these high tech toys.




The jockey wheels

Although we thought about switching to stock record chainrings by the end of September to avoid the extra wear caused by the cold, the rain and the salt coming with the winter roads, the jockey wheels didn't receive that much attention... They were mounted in June and ended their life a few days ago after a complete bike cleaning. Despite the thousands kilometers (about 7000km: 2007 was a very small year regarding the kilometers...), and the dirt/dust, which found refuge between the wheel and the washer, they still were functionning very well: smooth and fluid.
Ok, they now look as ninja throwing stars instead of a bike transmission component, but for sure they could have hold a few hundreds extra kilometers without a doubt.

Here are the pictures, today on the left, and brand new on the right...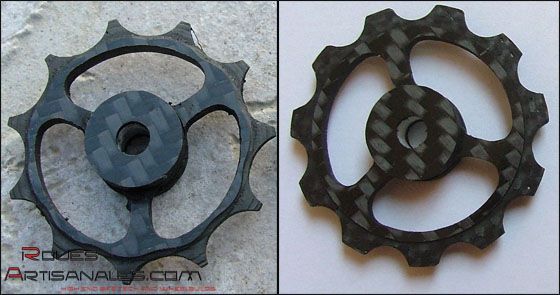 The chainrings

About the chainrings we have used the last summer, they still look very good after more or less 2000km. The shape of the teeth is not as regular as the first ride, but they are still perfectly rideable. Roughly, if you are gentle with your bike, you can expect more or less 5000km. However, if you do not take care that much about your stuffs, do not hope more than 3000km from them.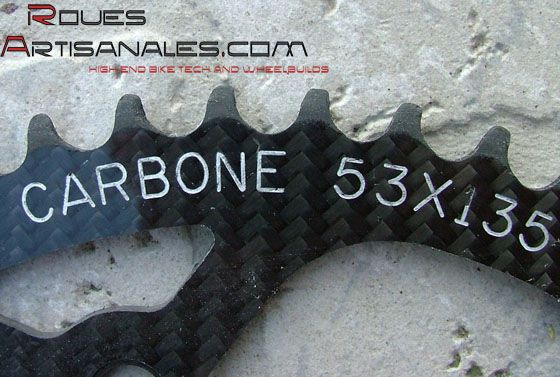 Fibre-Lyte, the carbon transmissions, conclusion:

Basically, here are the most important points we found about the carbon chainrings and jockey wheels:


Strong points
+
Weak points
-
Weight save: about 60g for the chainrings, and 10g for the pulleys, from the stock Campagnolo record
Wear three or four times quicker than a standard transmission
Agressive look
The chainrings are brittle: do not shift chainring when pushing hard the pedals
Custom components: teeth, engraving, shapes, etc.
Price