Jura's secret - Gerolsteiner on TV - Lew under X-rays
---
Second part of the secret

The wheels we presented early in March are still under tests, and they don't seem to show any weak point. Featured during the Tour du Jura, their native region, on the 11, 12, and 13th of April, a couple of racers tested them intensively during this race. The manufacturer is still unsure about marketting them for several reasons. On our side, we really hope to see these hoops at our local bike shops!
As information, these complete wheels are claimed to weight about a kilogram and the stiffness should be higher than what we might be waiting for...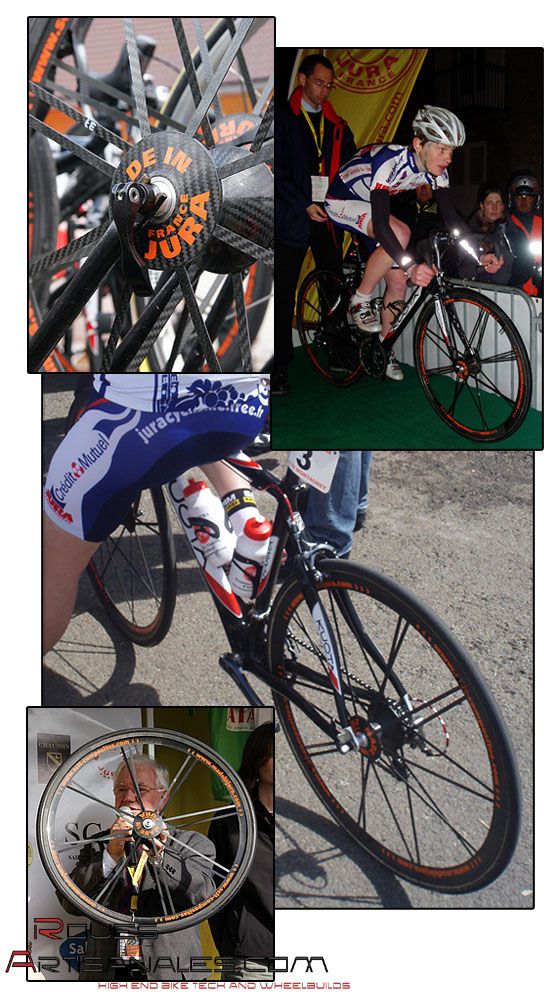 ---
Arte, Gerolsteiner


As usually, the reports on Arte, a documentary french channel, are very interesting and inspire a lot. They are so well made that you will want to watch until the end.
The film director Axel Engstfeld, presents the daily life of the Gerolsteiner pro riders, and especially Fabian Wegmann. Training, analysis, psychology, tests, material, equipment, to quote a few things, are presented deep in the last single detail.



La marge ultime




---
Lew under X rays

Raoul enjoied analysing his Lew Pro VT-1 wheelset under X-rays. The carbon appear in grey/black while the metal parts reflect the waves and thus appear in white. The valve is clearly visible, but, and it is more interesting, the rim/spokes junction and the braking surface/rim upper diameter are white too. Is there some metal here as well?